Calgary Roller Derby is excited to announce we have met all guidelines for Return to Play Tier One!
Over the past months, the CRD Board of Directors and our Risk Coordinator have monitored the current COVID situation in our city and province. We have met the baseline conditions required for CRD to begin Tier One, as stated in the WFTDA COVID-19 Return to Play Guidelines.
The Calgary zone is classified as "open," and there are less than 50 cases per 100K people and a downward trend in active cases. The public health orders in Alberta state indoor gatherings up to 50 people are allowed. Our practice space is capping that number at 26. To meet the guidelines of our practice space, we have divided the league into two separate cohorts.
The same public health orders state, "With modifications, team sports are permitted under Stage 2, including contact sports. Sports teams can play in region-only cohort groups of up to 50 players or 'mini leagues'."
This means we're strapping on our skates for the first time since March for non-contact, physically distanced practices!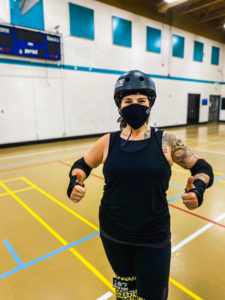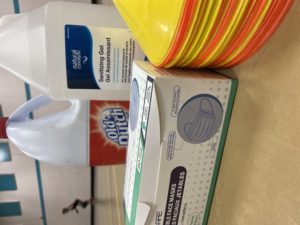 You may be asking what steps Calgary Roller Derby is taking to ensure skater safety while beginning Tier One practices?
Steps we are taking include (but not limited to):
Splitting up our league members into two cohorts to reduce practice sizes & overlap
Running individual skills & drills only (no contact)
Providing trainers with electronic whistles (or utilizing whistle apps)
Providing trainers with a megaphone
Skaters will use their own set of cones during practice (no sharing)
Setting up a sanitation station for cones & hands
Encouraging the use of masks while skating (this isn't required in our area)
Suspension of all attendance policies
Please reach out with any questions you may have about our local conditions, return to play policy, practice set up, or anything else.
If you're a league who's also reached baseline conditions and would like to discuss how we approached re-instituting practices, please email info@calgaryrollerderby.com.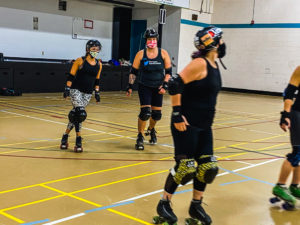 All photos are from a mock practice where members of the BOD, Risk Management,
& Training Committee attended in preparation for Return to Play.